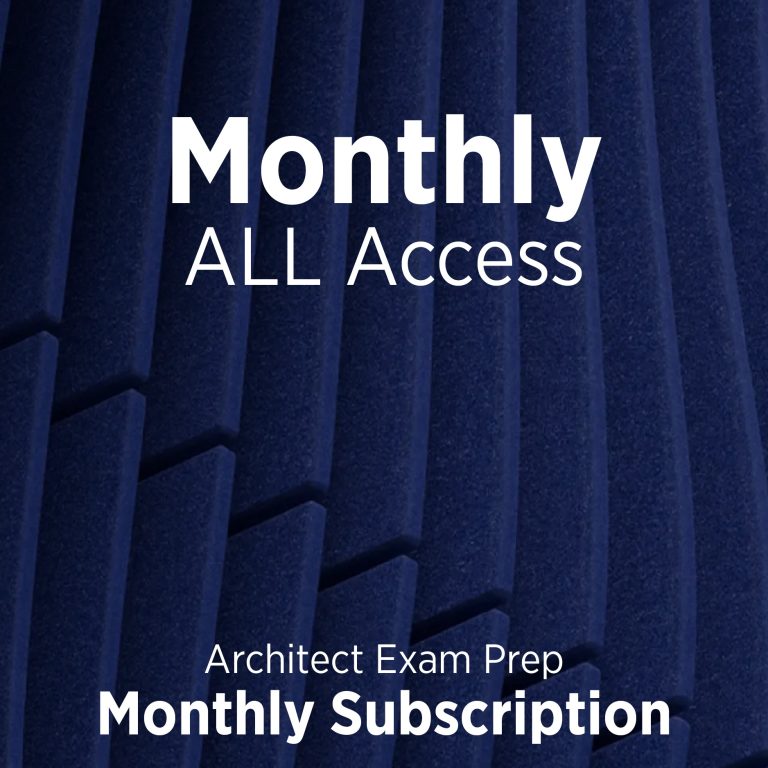 Sale! $119

/month
$249

/month        
SAVE $$$  on a 12 Month Subscription (45% Savings!)

Click here to save!
This includes Monthly ALL Access to ALL 6 Divisions of the 2023 Online Architect Exam Prep extensive bank of materials which include the CE, PA, PcM, PjM, PDD, and PPD divisions. You will have access to our exclusive Online Course Portal which consists of our entire bank of study materials including, Online Study Guide, Audio Companion, Audio Commentaries, Online Flashcards, Online Case Study Guides, and an Exam Simulator with over 2,800 Questions and Answers.
Your monthly subscription will begin as soon as you complete the checkout process and you'll have instant access to the course. However, if you prefer the subscription to begin at a later date, simply email support@architectexamprep.com within 24 hours of purchase and we can delay the start. Pausing a membership is allowed for up to 30 days and is limited to one pause per 6 month period. Additional pausing beyond 30 days is not allowed.

Recurring billing will occur monthly at the current rate of $119 per month until you cancel the subscription.
The materials are 100% online and you will need an internet connection to access them. There is no offline mode but the audio files can be downloaded for offline use and flashcards (.pdf) can be downloaded, printed, and cut out. This allows us to provide the most up to date materials in a convenient and readily accessible format.
NOTE: You will enter your email address and create a password during checkout that will become your course login info.